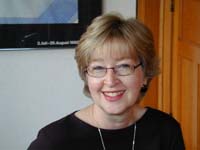 Courtesy School of Artchitecture, University of Arkansas
The 26th Annual Conference of the Visual Resources Association will be held on March 12-16, 2008, in San Diego, California.  The warm, sunny location will add to the excitement of our program, special events and receptions.  VRA 26 will cover topics of significance to our profession: digital imaging issues, information management, VR positions in transition, and designing new VR facilities; and will attract professionals from major academic institutions, cultural organizations, and the commercial sector. In addition to professional sessions, workshops, and special interest groups, conference goers will experience San Diego's museums, famous restaurants, and other cultural attractions.
Conference headquarters will be the Westin San Diego at Emerald Plaza, conveniently located near Seaport Village, Little Italy, and the San Diego Gaslamp Quarter. Recently renovated, the hotel's 25 floors of guest rooms feature panoramic views of the San Diego Bay, Coronado Island, and the downtown cityscape. Only minutes away are major attractions, such as the world-renowned San Diego Zoo, Balboa Park and Museums, Sea World, Old Town, the USS Midway, and the breathtaking scenery of San Diego's stunning sandy beaches.
The Gaslamp district is touted as being Southern California's premier dining, shopping and entertainment district, where you'll find a truly eclectic blend of food, fun and culture all within one of San Diego's most historic areas.  And you won't want to miss Balboa Park, home to fifteen museums, various arts and international culture associations, as well as the San Diego Zoo, making it one of the nation's largest cultural and entertainment complexes.  International, and commercial air service for the region is provided by the San Diego International Airport.
Our conference organizers, Vice-Presidents Rebecca Moss and Vickie O'Riordan, assisted by the VRA Southern California Chapter's local arrangements committee, are planning an event not to be missed.
Highlights include:
-- An opening plenary session on intellectual property rights from the perspective of image rights and copyright owners.
-- Informative sessions on metadata, cataloguing and access issues; collaboration and aggregation projects; preservation; and the future of the visual resources profession.
-- Workshops presented by subject specialists on the Getty Vocabularies, Seeking the Right Path for Visual Resources Users, Subject Access to Visual Materials, and XML.
-- Keynote address by Maurizio Seracini. Seracini, an internationally recognized expert in high-technology art analysis, is the Director of UCSD's new Center of Interdisciplinary Science for Art, Architecture and Archaeology, a unique program that researches the history behind the construction of paintings, sculptures and buildings by using sophisticated diagnostic-imaging technology.
-- Vendor exhibits, Special Interest Groups, and Ask the Expert sessions provide other opportunities to learn about new technologies, emerging products, and shared professional interests.
-- We'll be reprising last year's popular Birds of a Feather lunches -- issue-oriented lunch groups hosted and facilitated by VRA professionals, specifically but not exclusively geared toward new members of the organization and first time attendees.
-- New this year will be poster sessions on topics such as the Computational Linguistics in Image Access Research project, Managing Personal and Public Collections Using DIVA, Capturing the Web, and Researching Art-Historical information using the TTC-ATENEA system.
-- Special events will include an Awards Reception and Membership Dinner, an exciting and different Tansey Fundraiser featuring Charles Phoenix (a comedian known for his retro slide shows), and the always spectacular VRAffle emceed by Patti McRae with the able assistance of Allan Kohl and the VRAffle-Rousers.
VRA 26 will be an excellent opportunity to learn new things, share experiences with enthusiastic and knowledgeable colleagues, and enjoy local culture, architecture, and art. Please join us in sunny San Diego for what promises to be a memorable conference experience.
Macie Hall
President, Visual Resources Association
---